Seniors- Safety & Accessibilty
Aging-in-Place
Age and Disability can pose significant challenges in everyday living and routine tasks in our homes.  We can help you cope and rise above these with the training and experience we gained in more than 27 years of helping people with their homes.
In 2004, we became the very first Certified-Aging-In-Place Contractor-CAPS, anywhere between Jacksonville and Pensacola.  Our 10 plus years of experience
designing

and

remodeling

for Senior Safety, can make a huge difference for you in your home.
---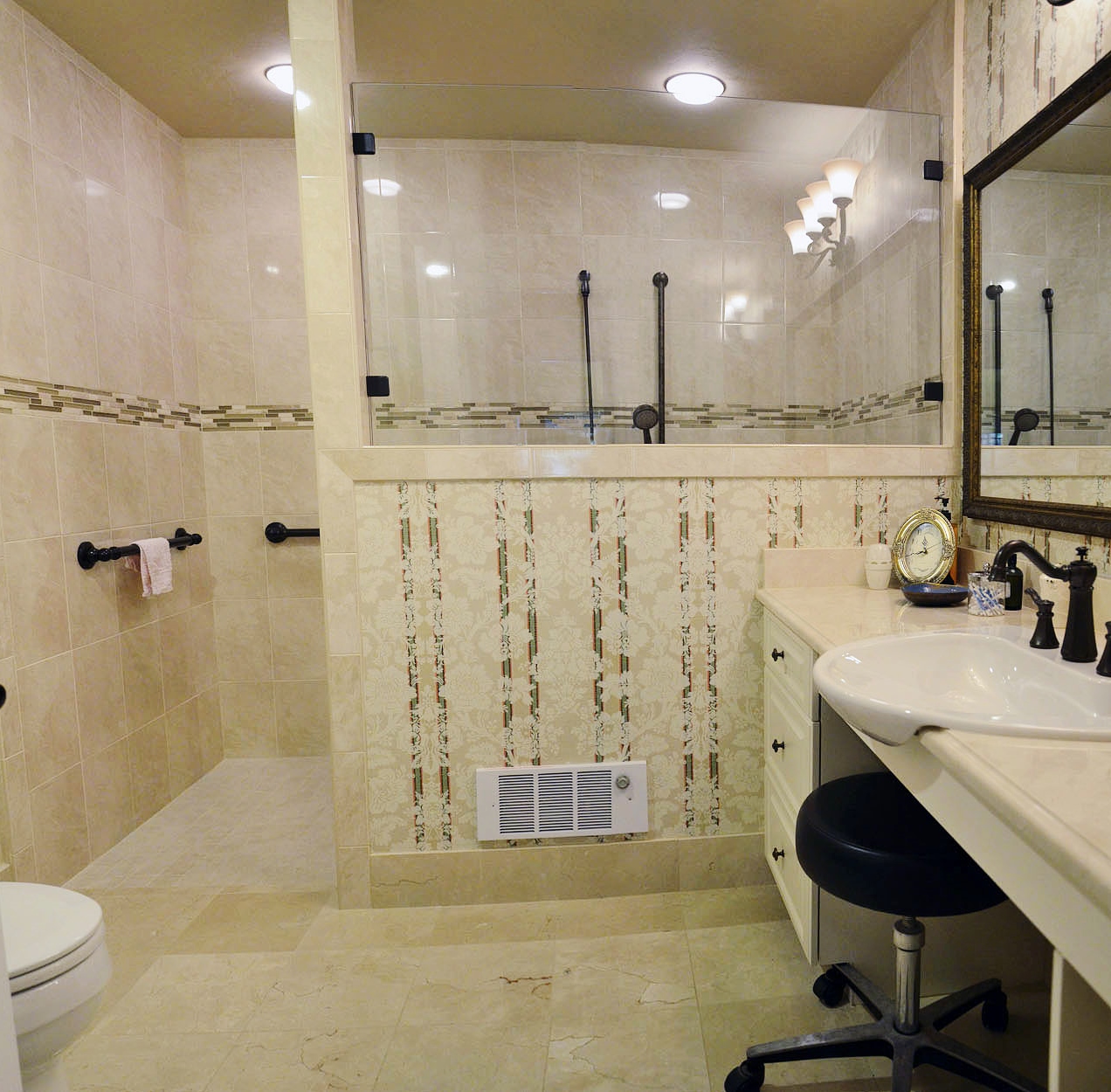 Better to do this before they were 90 years old
Although we did all the design and construction for the adjacent bathroom, one thing could have made it more successful.
IF we had been called BEFORE the Owner fell.
Disability and Age pose similar challenges
She was a very kind person, who unfortunately is stricken with a terrible disease.  She said "Besides the basics of an accessible sink and safe shower, his Aging in Place training was very useful in a host of other details".
We widened a number of doors, so she could motor through them on the scooter and wheelchair.  Lowering thermostats and light switches makes them accessible to those of us in wheelchairs.
Procrastination Can Create Big Issues
I met these folks the year before, when we designed the remodeled bathroom. Great people, who had lots of things to see and do and places to go. They promised to get back to me, just as soon as they had a chance to make selections and considered modifications to the plans, but it would be sometime, soon.
When he called the following year, it was a crisis, because she was in rehab. All of a sudden the bathroom had to be remodeled, before she could come home.  More pictures in the Bathroom section.
After getting in the house, the most significant obstacle to remaining in one's home is using the bathroom.  Stepping over 6-8″ high curbs into a shower or stepping over and into a tub isn't something we think about.  Then one day it's a hazard, or we are concerned it might be.